A BRITISH CLASSIC
The Pilgrim 3000

If you thought the time had long since passed when it was possible to own a classic British sports car and enjoy the exhilaration of wind-in-the-hair motoring then take a close look at the Pilgrim 3000.

Unashamedly employing classic '50ís styling, the 3000 captures the spirit of an era when British sports cars enjoyed worldwide recognition as the finest in their class.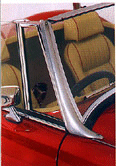 However, styling is only part of the 3000's appeal. Beneath the flowing lines of the composite monocoque bodyshell, lies a modern engine which together with a robust backbone chassis, and Geoscan designed suspension, bestow the car with the smooth power and taut predictable handling which are the hallmarks of all true sports cars.
Test drive a Pilgrim 3000, look down the long bonnet, feel the surge of power and the precise handling and, as you relax and feel at ease with the car, you will quickly realise that here at last, within your reach, are the pleasures, thrills and individuality, gained only from owning a classic thoroughbred.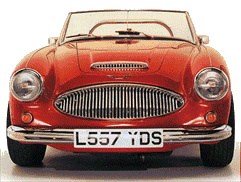 EASY TO BUILD......
One of the benefits of building such a well designed car is that the finish you see is the finish you get when you assemble the parts yourself. You don't have to be an expert trimmer or finisher because all that is needed is a degree of practical ability to place the Pilgrim supplied components where they should go.
No specialist knowledge or equipment is required unless you have some specific problem with an individual component; in which case you can employ the short term services of an expert.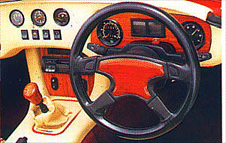 PARTS NEEDED
Ford Sierra donor car; from which you take:-
* Engine and Gearbox assembly.
* Brake master cylinder and servo unit.
* Pedal box assembly with separate throttle pedal.
* Steering column complete (upper and lower sections).
* Propeller shaft (require shortening).
* Rear axle assembly with brakes and differential.
* Handbrake lever and cable. The cable requires shortening.
* Exhaust system. Requires modification to fit.
* Wiring harness with switches, fuse box and relays.
* Door locks with striker pins.
* Seat belt

From other cars:-
* Front uprights with hubs brake calipers, discs and bearings - Ford Cortina
* Heater - Mini
* Windscreen wiper motor - Mini
* Steering rack - Escort Mk I I 2, modified to fit
* Radiator - Ford Cortina

Special Pilgrim 3000 parts:-
* Road springs.
* Dampers.
* Fuel tank.
* Front suspension ball joints.
* Rubber bushes for front and rear wishbones
* Rear drive shafts