1934 Cabriolet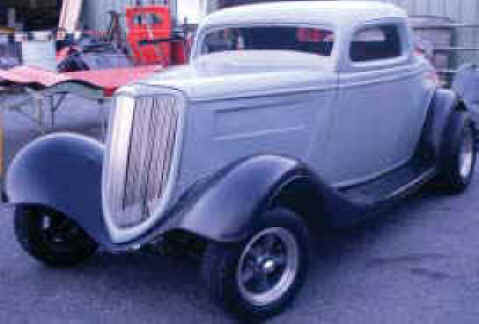 S

tandard Features Include: Doors hinged and

latched. The hidden hinges are 1/4" steel and

mounted to a steel column. Doors open to a full 90

degrees. Power window regulators and track. Dash

installed. Garnish moldings. DOT approved rotary

door latches with adjustable striker plate. Complete

floor and tranny cover. Trunk lid hinged, adjusted

and opens wide on hidden hinges where

applicable. Drip gutter in trunk. Steel and fiberglass

reinforced and much more...
1934 Cabriolet




Body shown with fender kit sold separately

1934 Cabriolet Car Body

$6,000

Body Parts

Front Fenders

$190.00 ea.

Running Boards

$150.00 pr.

Rear Fenders

$165.00 ea.

Inner Fender

$100.00 pr.

Grill Shell

$120.00

Hood

$120.00

Hood Slides

$135.00 pr.

Rear tank cover (plain)

$100.00

"V" Splash

$60.00

Recessed License Plate Style

$100.00

Fancy Inner Fenders

$140.00

Front Fender "V" hold down

$23.00

Front fender brace

$60.00 ea.

Front fender brace (rear)

$13.00 ea.

Rear rolled pan 2"

$100.00

Cowl Vent

$250.00

Tubing of body

$350.00

Channeled

$300.00

Hard top

$300.00

Installation kit for hard top

$200.00

Frame & Frame Parts

Perimeter Frames - Straight Axle

$1,950.00

Perimeter Frames - Straight Axle Pro Street

$2,300.00

Perimeter Frames - IFS

$2,525.00

Perimeter Frames - IFS Pro Street

$2,875.00

Rolling Chassis

Rolling Chassis - Straight Axle

$2,000.00

Rolling Chassis - Straight Axle Pro Street

$7,550.00

Rolling Chassis - IFS

$5,900.00

Rolling Chassis - IFS Pro Street

$7,350.00

Hood Support Rods

Stainless steel rods

$80.00

Firewall supports

$19.00 set

Radiator

"Walker" radiator

$700.00

Electric fan - 15"

$90.00

Hoses & Clamps

$40.00

Tranny Lines

$30.00
Prices are can change without notice please contact us for current prices