Headlight Protection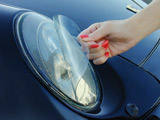 Why is headlight protection so valuable?
It has been estimated that on average 1 out of every 6 automobiles will require headlight replacement due to damage from road debris.
In Canada the chance of headlight damage is one of the highest in the world.
Replacing headlight components can be an expensive and time consuming process, the average headlamp set costs $450 CDN to replace. Plastic headlights tend to dull and lose their transparency, glass headlights tend to break and fracture as they wear.
Depending on the automobile you have, we provide protection for your headlights with a thick protective layer of Ricochet™ clear.