Car lifts
We are authorized dealers for Lift King car lifts and garage accessories. Next day delivery available on our hoists.
PRO KING 8 ONLY $3295 F.O.B. Calgary. Pick up at our shop or world wide delivery is also available. Pick up in Innisfail, or delivery to anywhere between Calgary and Red Deer has a total cost of $3645. This car lift comes complete with 4 casters so you can easily roll the hoist around, drip trays, a thick tarp to protect the lower car and your choice of motors in either 110 or 220 volts.
Available in Black, Blue, Red, and Yellow.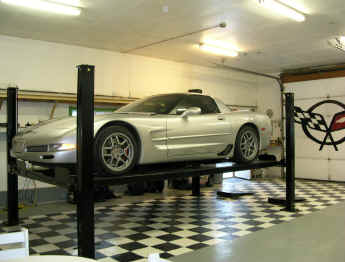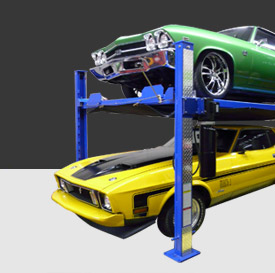 Below is how the hoist is delivered, you can pick it up from the warehouse in Calgary, or our shop in Innisfail. You can assemble it your self or it can be put together for you in your garage. This is the hoist we use - come see it in person before you buy.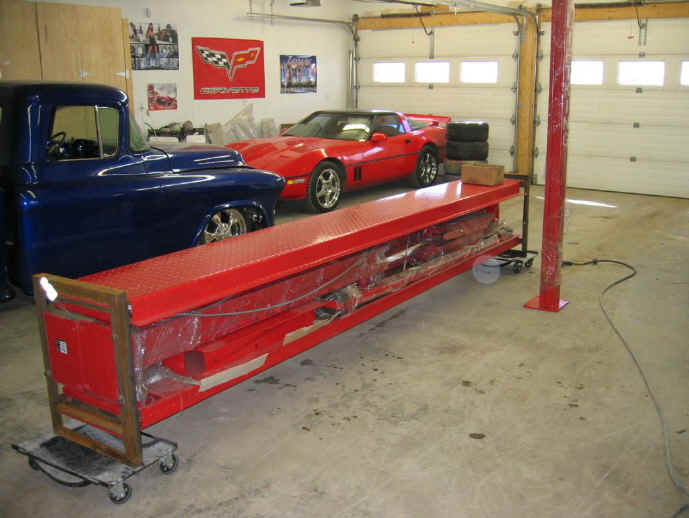 ... and a couple hours later here it is together.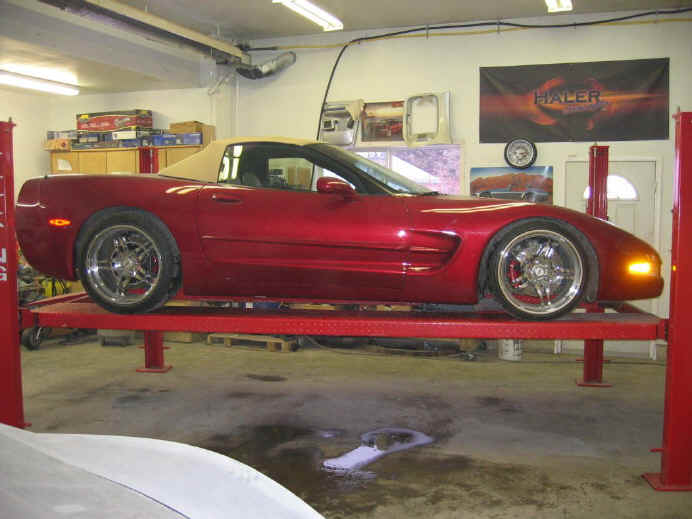 Lifting capacity
8,000 LB.
Power unit electrical requirement
110/220 Volt
Shipping weight
1650 lbs.
Speed of rise
75 seconds
Lifting height in top lock position (Height to top of runway)
74"
Clearance under lift in top lock position (Height to bottom of runway)
71"
Length of runway
170"
Length of approach ramp
36"
Height of columns (overall height)

88"

Size of columns
6."x 4"
Runway width
19"
Width between runways
37"
Measurement to outside both runways
75"
Clearance between columns
93"
Overall width (with motor)
117"
Overall width (without motor)
106"

Motor/Structure warranty

Lock Heights 17",31",36",41",46",51",56",61",66"71"

5 yr/Life
PRO KING 8 XXL $3895
Lifting capacity
8,000 LB.
Power unit electrical requirement
110/220 Volt
Shipping weight
1857 lbs.
Speed of rise
75 seconds
Lifting height in top lock position (Height to top of runway)
86"
Clearance under lift in top lock position (Height to bottom of runway)
81"
Length of runway
192"
Length of approach ramp
37"
Height of columns (overall height)

98"

Size of columns
6."x 4"
Runway width
19"
Width between runways
37"
Measurement to outside both runways
75"
Clearance between columns
99"
Overall width (with motor)
123"
Overall width (without motor)
112"

Motor/Structure warranty

Lock Heights17",32",38",43",49",54",59",65",70"75"81"

5 yr/Life