2000 Ford Expedition Eddie Bauer 4x4
Truck is in Canada.
FOR SALE
(Click photos to make larger)
Just lowered a little more then 3 inches on 24 inch wheels with tan trim painted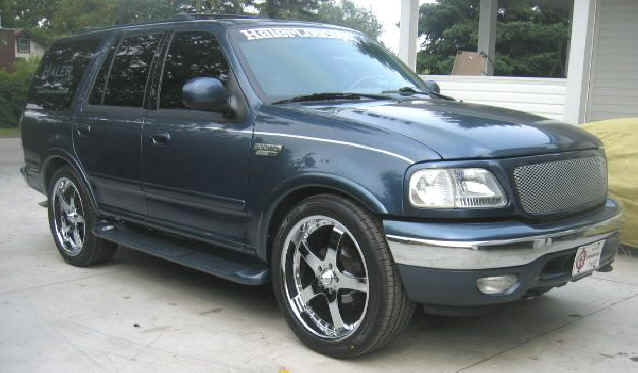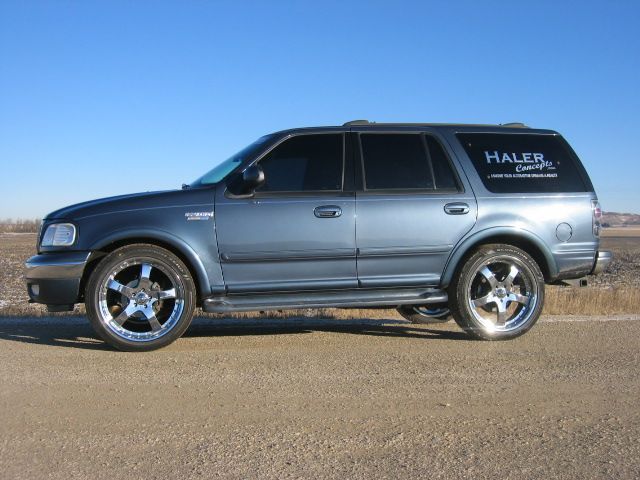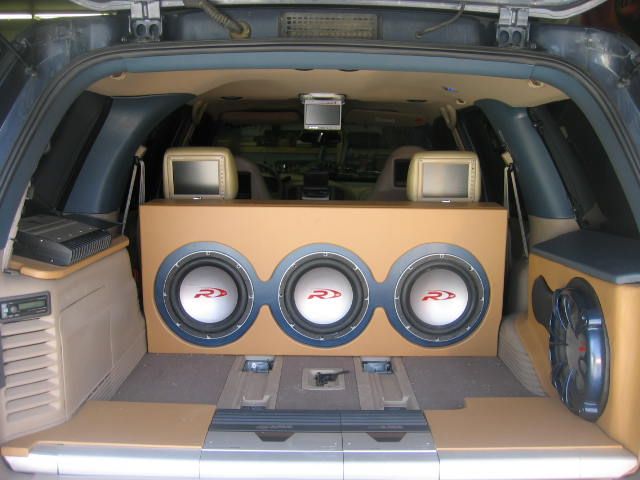 Truck kept completely useful this time...The third row seat still fits!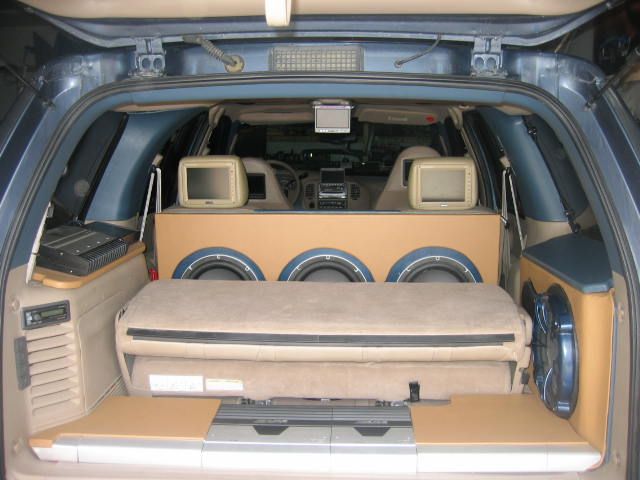 Or there's room for the matching pocket bike with 7inch TV: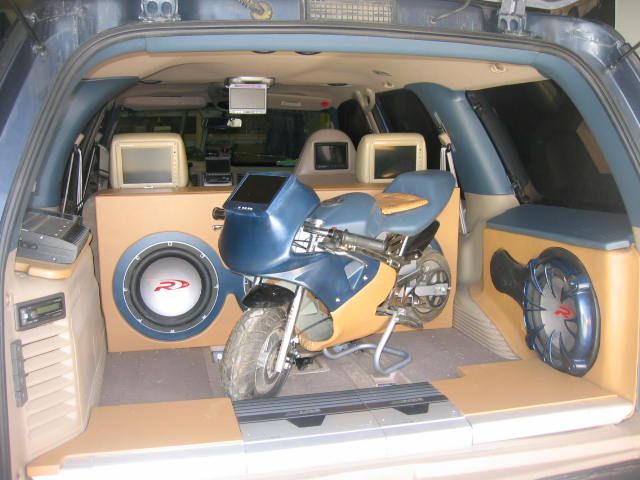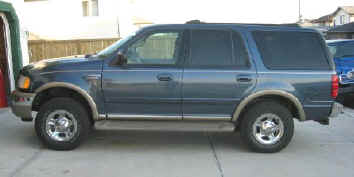 Before and After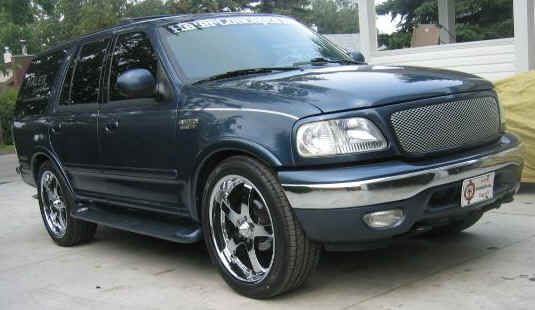 Exterior:
24 inch chrome American racing wheels with 295/40ZR24 Pirelli tires

Custom badges

All tan "Eddie Bauer" trim painted to match SUV

Euro clear head lights and corners

All windows limo tinted

Security fill on windows

Street Scenes grills

Carbon fiber tail lights

Blue strobe lights in head lights and corners

Personalize license plate

Custom decals on windows

Blue LED lights in running boards

LED turn signal bulbs

Tan pin stripes removed and replaced with chrome stripes

Lowered 3 inches

Interior / ICE:
CURRENT TV COUNT: 8
Alpine in dash TV

In dash DVD player

TV tuner

Alpine 12 disc CD changer

Alpine digital Sound processor/EQ

2 Alpine Mono Amplifiers - one for each sub box

JL Audio 300/4 Amplifier for speakers

Alpine Type R 6.5 inch components in front and rear doors (4 mids and 4 tweeters)

4 Alpine Type R 12 inch subs

1 box Dynomat extreme

Blue LED lights replacing factory interior lights

7 inch screens in both front seat head rests

7 inch screens in both sun visors

Playstation

Motorized flip down 7 inch screen

Audiobahn DVD player for watching two different movies at once

8 inch monitors in both rear seat headrests.

Panels covered with blue vinyl
Stereo in SUV for 2007: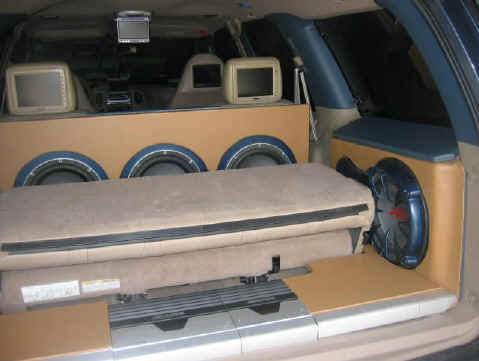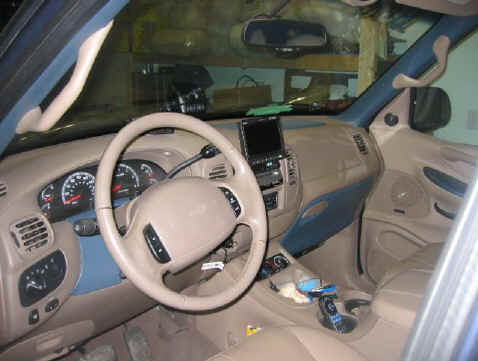 --------------------------------------------------------------------------------------------------------
Stereo in SUV for 2006: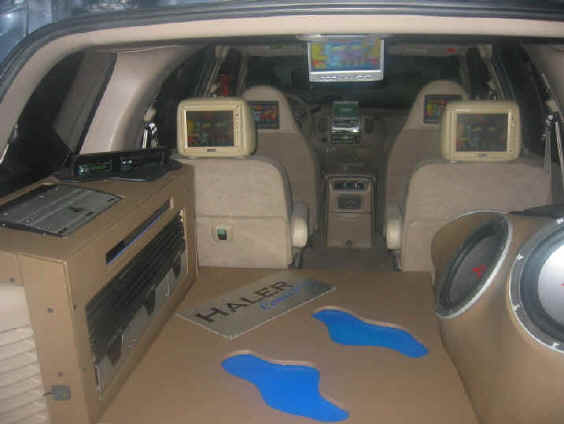 Engine: (ratings as posted by the manufacture of the products)
Polished open air intake (8-10 HP/10 ft lbs Torque) with blue filter

Super chips Micro tuner power programmer (21 HP/32 ft lbs Torque)

2 Optima Yellow tops

Polished billet dress up pieces

Painted items

Extras: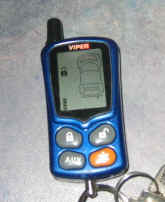 Build pictures:
Installing the stereo system(s):





Here's how it looked the days I bought it, an unused third row seat, factory stereo - well everything was factory!
PLAN:
Have a total of 12 to 15 TV's

Full Lightning front end.

Full custom interior, custom two toned leather seats blue and tan.

Performance up-grades
Sponsors: