Frame: Complete jig-welded original style 4" round tube frame. 95" wheelbase chassis. Includes all mounts ready to accept small block Ford 302 and 351 engines and Ford running gear from 1987-1993 Mustangs.

Includes full cage and SCCA style rear crossbar in cockpit
Body: Hand laid 3/16" laminate composite body includes hinged nose, main rear clip and doors with hinged steel-framed lexan rear window. Made with high quality vinylester resin.

Driver and Passenger doors with molded door liners and DOT door latches
Front nose with hinge kit. Includes gas strut supports, fasteners, and under nose body mount supports
Original style molded-in hood scoop and fog light recesses
Rear main body section comes with separate rivet-on rear spoiler.
Original style deck scoop and footbox vents.
Includes secondary body fasteners assembly.

Adhesive backed foam weatherstrip
Body mount fastners
Engine bay and rear trunk area seal, push on rubber bulb seal
Rubber hood bumpers, small and large sizes

Includes adjustable door hinges, latches and fasteners
Includes an opening vintage rear window with steel-frame (powdercoated) perimeter support, hinge kit and vintage latch w/fasteners.
Includes glass front windshield (DOT safety glass)
Includes side window air scoops and framed sliding side windows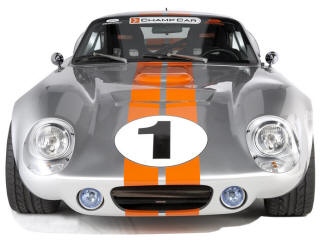 Chassis Aluminum Panels: Includes over 20 precision CNC cut, pre-formed 6061-T6 aluminum panels for cockpit (floors, trans cover, and footboxes), rear trunk area, and engine bay/firewall/splash guards.

1200 pre-packaged rivets 1/8" short & long, 3/16" short & long
Complete cockpit aluminum with pre-formed footboxes, floors and transmission tunnel. Includes speedo cable block-off plate and trans harness block off plates. Also includes aluminum dash w/cut-outs.
Engine bay aluminum assembly with aluminum radiator duct surrounds and splash guards.
Complete aluminum trunk area.
Front Suspension: Includes high quality Bilstein brand mono-tube, rod-end, coil-over shocks, tubular upper a-arms with ball joints, adapter brackets and all grade-8 mounting hardware. Front suspension comes ready to use Mustang lower control arm/spindle and brakes.

Bilstein brand high performance mono-tube, rod-end shock absorbers
Coil-over kit for Bilstein shocks including spring hat, threaded seat and 500lb. black powdercoated performance springs
Adjustable upper control arms with ball joints and fasteners
Grade-8 mounting hardware.
Rear Suspension: Type 65 Coupe base kit includes rear axle brackets, fasteners and axle straps to mount your Mustang 8.8" rear solid axle and brakes. Comes with all fasteners and hardware required to install.
Brake/Fuel Lines:

Base kit comes with pre-flared brake/fuel lines, (3/16", 1/4" and 5/16") and fasteners to use OEM style fuel tank and system. Includes polished vintage Aston LeMans flip top gas cap, integral modern fuel pressure cap and adaptor kit, fuel lines, connectors, filler neck and fasteners

Pre-flared fuel lines (1/4" and 5/16") w/unions, barbs, hose clamps and high press flex lines and fasteners
Aston LeMans original polished aluminum fuel cap with integral pressure cap, gaskets, ground strap, fuel hose to tank w/fasteners.
Steering Kit: Steering adapter kit to utilize Mustang steering rack includes upper shaft, pillow blocks, flange bearings, fasteners, lower shaft and u-joints. Features a collapsible column, Vintage wood and aluminum steering wheel w/aluminum boss, center section and Factory Five Racing badge.

Lower steering shaft w/'87-93 rack adapter (3/4"-36 spline)
Upper steering shaft, spring washer and fasteners
14" Vintage wood and aluminum steering wheel w/boss and F5R center section and fasteners
Steering bearings and hardware, including flange bearing, pillow block bearing and fasteners
Complete Cooling System/Parts: Electric cooling fan, thermostat, relays and mounting kit w/hardware. Cooling system also includes stainless steel hoses, and all necessary fasteners.

Electric cooling fan, high flow 16" puller, w/mounting kit and connectors
Aluminum radiator, in-line filler neck and pressure cap
Radiator mount kit and fasteners
Stainless Steel radiator hose kit incl. adapter kit, fasteners and hose
Overflow tank w/cap, hoses, hose clamps and mounting hardware
185 degree thermostat, switch and wiring
Misc. Engine Accessories/Side Exhaust/Mounts: The Type 65 Base kit is configured to accommodate the Ford 302 or 351W engines. Kit comes with alternate drive pulley assembly, oil filter relocate kit, and exhaust assembly to adapt Mustang engine and headers to vintage side exit exhausts.

Headers, with gaskets and fasteners. Select from

302 Headers, ceramic coated w/gaskets
351 Headers, ceramic coated w/gaskets

2-into-1 Side Exhaust, bare steel w/rubber hanger brackets, gaskets and fasteners
Alternate drive pulley, spacer, pulley wheel and fasteners
Air filter, conical
Custom length fan belt* with fasteners.
Universal accelerator Cable Assembly: includes the cable, return spring and retainer.
Gauges and Dash and Electrical Assembly: Base kit includes gauges, and parts to adapt Mustang wiring harness. The Base Coupe kit also comes with an authentic style dash, indicator lights, switches, and horn.

Type 65 Coupe style aluminum dashboard w/fasteners
Red, Green, Blue dash indicator lights
On/Off switch, horn button, flasher and connectors
Choose a complete set of 7 Autometer brand Ultra-Light electronic gauges, w/connectors, terminals and installation kit. Includes the following gauges:

Speedometer
Tachometer
Oil Pressure Gauge
Water Temperature Gauge
Fuel Level Gauge
Voltmeter
Oil Temperature Gauge
OR Upgrade to: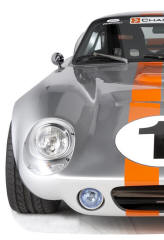 Complete set of 7 vintage F5R Replica gauges w/connectors, terminals and installation kit including:

Reverse read Speedometer
Tachometer
Oil Pressure Gauge
Water Temperature Gauge
Fuel Level Gauge
Voltmeter
Clock
Interior Accessories:

The 65 Coupe kit comes with all the interior accessories you need. Authentic seats, door latches, toggles, rear view mirror, and more complement the dash and gauge assembly for a full interior that is period correct. Check out this full list of standard parts and assemblies.
Authentic style Coupe bucket seats, black vinyl w/fasteners
5-point Simpson Brand harnesses.

Emergency brake boot, black vinyl
High-quality fabric headliner
Interior rear view mirror w/fasteners

Stainless steel shifter handle, shift knob, boot, polished ring and fasteners
Exterior Accessories and Lighting: Along with the goodies on the inside of the car, the Coupe is period correct on the outside. Check out the standard exterior accessories that come with the base Coupe kit.

Authentic license plate light and bracket with fasteners
High quality laser-cut aluminum mesh vents for nose/sides and rear brake ducts on tail
Ceramic F5R nose badge
Polished side view mirror, original style
Original style headlamps (DOT) with buckets, halogen headlamps, trim rings, wiring pigtail, adjustment screws and fasteners
Lexan headlight covers and fasteners
Front turn signals, original style small amber indicators.
Rear turn signals, original style red twin filament rear tail-lights
Electrical Parts and Assemblies:

Battery tray, j-bolts, cables and hold-downs with fasteners.
Battery cable. Pre-cut, pre-assembled 4-gauge positive cable w/terminal covers.
Insulated line clip hardware and fasteners
Cable ties, wire loom and flex grommeting
Pedal Box Components: Utilizing the Mustang pedal box, we supply you with pedal box adapter kit, fasteners and accelerator cable.
Oil Filter Relocater/Alternate Drive Pulley Asemblies: A cool oil filter relocate kit comes with all hoses and hardware. Other parts to help 302 EFI and Mustang engine users include…
Type 65 Coupe Assembly Manual: Bound assembly manual that is over 200 pages long.


Fasteners:

Over 1500 top quality zinc plated and stainless steel USS and SAE

fasteners, numbered and packed individually by assembly.