Welcome to Haler Concepts Ltd.!
Please note our Innisfail shops are currently closed as we open our new shop in Panama. We still provide parts to North America and the rest of the world from our distribution sites in North America. For More information or to make an appointment contact us by Email chris@halerconcepts.com



SUPERCHARGER SPECIAL ON NOW! WE PROUDLY OFFER A&A KITS - CLICK HERE.
SEE SOME OF OUR WORK BY CLICKING HERE
| | | | | | |
| --- | --- | --- | --- | --- | --- |
| Corvette Service | Stereo Installs | Car Lifts and Hoists | Corvette Parts | Window Tinting | Current Projects |
Own a Corvette? We're the only contact you need for parts, service, paint / body, restoration and customizing. See some of the Corvette's we've worked on by clicking here: Corvette's

Have a 35th Anniversary Corvette? Add yours to our list - click the photo.
Need parts or custom upgrades to your Range Rover or other Land Rover vehicle? Just let us know what you need.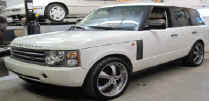 Looking for a Factory Five kit? We can supply you with all the parts or a fully built car. Click the photos to learn more about the kits.
Click the photos for more info.
We do custom car stereo's - Click here to see some of our work.
CHECK THE CARS FOR SALE AND "SHOW CARS" LINKS FOR GREAT DEALS AND IDEAS!
Haler Concepts - Making your automotive dreams a reality!
-------------------------------------------------------------------------------------

All our thoughts our with Jake Hale, he was too young and will be missed so much. 19/07/2001 - 26/05/2008