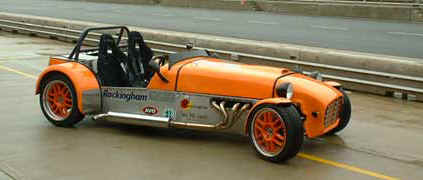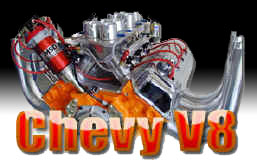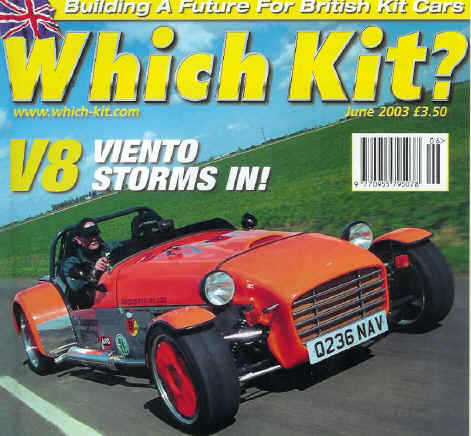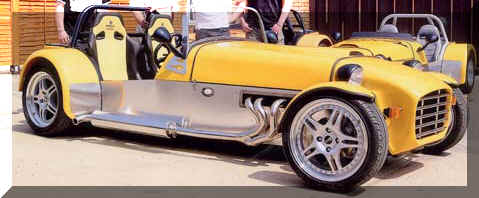 The Viento V8 is a fantastic car that has had brilliant reviews in the
Magazines and Web sites.
We believe The Viento is one if not the best V8 powered Seven inspired cars
on the market. The handling of this car is mind blowing, this is down to
the larger foot print and the V8 engine being back away from hanging over
the front wheels, so no under steer. Due to the engine being further back,
gives you the weight distribution that is required in a thorough bread
sports car, towards the middle. The steering geometry has been worked on
extensively at the development stage to give you near perfect steering with
NO bump steer. The car goes exactly where you point it.
The rear differential mounting brackets on the chassis are designed to
accept a 7" or 7 1/2" diff, so Standard Sierra components will fit into the
car as well as the Cossworth 7 1/2" diff,. The most common diff to use is
the XR4 x 4, this has a LSD.
The Viento also gives the driver and passenger a more comfortable drive with
it's extra width and length in the cockpit area. So no more bumping arms or
half your body hanging out of the car. This extra room also gives the
driver and passenger a safer feel when zooming along those country roads.
We could go on and on about this comfortable, fast, exhilarating, powerful,
exceptional car. The best thing is to come and experience it for your self.
---------------------------------------------------------------
The V8 Viento has landed. This new car is 6" wider than the original model,
enabling you to fit most seats on the market.
It is also 12" longer, giving an extra 8" in the engine bay, this enables you to fit all
types of engine, without difficulty, including the Rover V8, Jaguar straight
6, BMW, Ford V6, and the amazing Chevy small block power units.
This extra width and length gives 2" extra width on each side of the
cockpits, and 2" in the luggage area, enabling a over night bag to be stored
out of harms way.
Running Gear: This car gives you a choice of donor. Sierra with rear
discs, Sierra XR4i or Granada 2.9Ltr and use the Differential, drive shafts
and disc brake units. The front end is Sierra or Sierra XR4i front uprights
and brake system.
Engines: Pinto, Z-Tec, Rover V8, Jaguar straight 6, BMW M3 or M5, Ford V6,
Chevy small block.
Gearbox: Type 9, Cossworth Type 5, SD1 Rover, BMW M3 or M5.
Luego Sports Cars Ltd have put a lot of effort into developing this kit with
ease of build in mind, enabling you to literally get on the road with a
donor car and our kit. Or go crazy with the engine and gearbox, with this
car the choice is yours!
Donor List
· Sierra Disc 2.ltr or Sierra XR4i Rear LSD Diff, Drive shafts (no
modification needed) and disc Brake units.
· Sierra Steering Column and switching gear.
· Sierra Downlink
· Sierra Front Hubs with modification and brake system
· Sierra Handbrake

Cranfield University have run a research project on this new chassis.
This research has given Luego Sports Cars Ltd valuable information about the torsional behavior and load paths. The University started by studying the chassis and then they built a Finite Element (FE) computer model of it. They then verified this "base-line" model by torsion testing the real Viento chassis and comparing the results with that from the Finite Element computer model. Cranfield University then used the verified FE computer model to do a series of "what if" improvement studies. Luego Sports Cars Ltd have ended up with a detailed improvement plan, so you the driver will enjoy excellent road handling from V8 Viento chassis.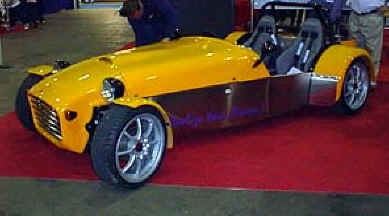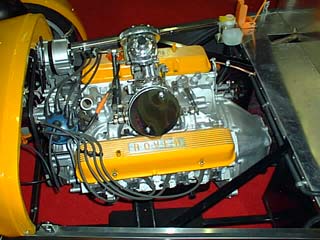 Budget Blaster Kit Includes:
Chassis. Fully Bracketed and welded floor, Full wishbone set, Hub carriers, Polly Bush Set, Deluxe Aluminum internal and external panel set, 8 piece fiber glass body color gel coated.
(Go to Color Selector - click here)
Complete 9 Package Kit
COMPLETE 9 PACKAGE INCLUDES
(1) Professionally Welded Chassis, Stress Analyzed By Cranfield University
"Come and see the quality for yourself"
Powder Coated Chassis and wishbones (Any Color)
Chassis (box-section space frame with suspension mounting brackets, brake pipe brackets front & rear, hand brake brackets, roll bar with back stays fitted (not bolted), 4 point harness bar, steel floor fitted, rad brackets, steering brackets, bulk heads, petrol tank bracket, steering column bracket,)
Bodywork (Various Gel Coat Colors)
Nose x 1
Scuttle x 1
Rear Wings x 2
Cycle wings x 2
Bonnet x 1
Rear Panel x 1
Dash x 1
Inner body finishers x 2
Alloy Full Length side & internal panel set, cut to size, folded with holes for W/bones
(2) Suspension/Steering
Conversion Boss x 2
Top W/bones x 2
Bottom W/bones x2
Rear Top W/bones x 2
Rear Bottom W/bones x2
Rear Camber Adjusters x 2
Rear Hub Carriers x 2
Poly Bush with inserts Set
Nut x 2
Fully adjustable dampers 14" x 2
Fully adjustable dampers 14" x 2
9" rear springs 180 lbs x 2
9" front springs 300 lbs x 2
Top ball joint and nut x 2
Bottom ball joint x 2
Steering rack x 1
Track rod ends and nut x 2
Steering rack extensions x 2
Steering Column Fitting Kit x 1
Steering Rack Brackets and Rubbers
(3) Brakes
Goodrich Viento Braided Hose set
Brake light switch x 1
Brake warning lamp x 1
Hand brake cable x 1
Gold Pedal Box (Hydraulic Clutch) x 1
(4) Luxury Light Package
7" Black head lamps with side lights x 2
Indicator rubber stalks front x 2
Indicator repeaters x 2
Number plate lamp x 1
Rear lamp cluster x 2
Rear fog lamp x 1
Reversing Light x 1
(5) Clocks High Quality (ETB)
Speedo Electronic (high quality) x 1
Tacho (high quality) x 1
W/Temp (high quality) x 1
Oil Pressure (high quality) x 1
Volt Meter (high quality) x 1
Fuel Gauge (high quality) x 1
Fuel sender unit x 1 (high quality)
Adaptors
(6) Windscreen
Windscreen (laminated) with Frame x 1
Alloy windscreen supports x 2
Windscreen bolts x 6

(7) Interior
Wing mirror x 2
4 Point Harness x 2
Premium High Back Cobra Seat x 2
Seat runners x 2
(8) Engine parts
Stainless V8 exhaust system x 2
Radiator x 1
Engine mounts (steel) x 2
Engine mounts (rubber) x 2
(9) Miscellaneous
Alloy rivet pack 4mm x 12mm package of 200
Front wing support/stay x 2
Wiring loom with Fuse Box (new) x 1
Relay pack x1
Diff Bolts x 2
Petrol tank 8.5 gallon x 1
Petrol tank straps x 2

Luego nose badge
Grille

Complete 9 Package -See price list
EXTRAS

The engine: 3.5 or 3.9 ltr HC Engine - 200 + BHP, with carbs etc:

Chevy V8 (305ci or 350ci):
T5 to Rover V8 Bell Housing, Slave Cyl, Flywheel & Clutch:
Type 5 Ford G/Box:
Wheels with tires:
Donor & Consumable Parts
Boot Box:
Parcel Shelf St/St:
Switch and dash light Set:
4 Pot Calipers with Larger Discs on Front:
2 x Fans:
Steering Wheel with conversion boss:
LSD Diff and half shafts:


FULLY BUILT HIGH SPEC. CARS WITH V8 ENGINES AND 5 SPEED GEAR BOXES AVAILIBLE
This kit is based on a Sierra 1800/2ltr/4x4/2.9ltr Granada Diff Donor. Disc brakes front & rear.
You can purchase any section of this kit individually or all 9. The choice is yours!!
All prices subject to Tax

Information in English: chris@halerconcepts.com 1 - (403) -606 -3505 (Canada)
Officially Licensed agents for Luego Sports Cars in all of Canada, USA, Sweden, Denmark , and Norway.